The Benefit of Having a Dental Implant Specialist Near You
If you have an abscessed tooth or missing teeth it can feel overwhelming. It may be difficult to eat and chew food you used to enjoy and as well as feel self-conscious about the appearance of your smile. The good news is that there are great options for restoring your smile, oral health, and function. Here is what you should know about choosing a dental implant specialist.
At Axiom, we love our patients and always try to inform them on what the best dental treatment will be. Our office specializes in dental implants which are an excellent choice for missing teeth because it restores your root and your tooth. A titanium post that is placed into your bone acts as your new root and eventually supports your new porcelain crown after it has integrated with your bone. This will cause your new implant to feel and function just like your original tooth.
Dental implants can replace multiple teeth by supporting dental bridges, partials, and all-on-four implants. Dental implants can also be an anchor for dentures, which provide a stronger fit than traditional dentures.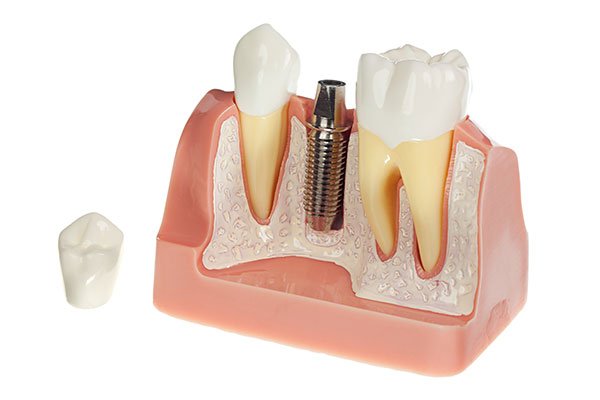 Who is a Dental Implant Specialist?
Dentists are not dental implant specialists. Dental implant specialists usually hold degrees, certifications, or practice certificates explaining how much extra schooling they have been through for dental implants specifically. At Axiom our dentists are board certified and stay up-to-date with their education.
Many periodontists, prosthodontists, oral surgeons, and maxillofacial surgeons have the relevant qualifications for doing dental implants.
Beyond dental school or college, they also have to attend years of training for further precision. They also have anesthesia training, additional surgical programs, and other qualifications under their belt.
Why Do You Need a Dental Implant Specialist?
General dentists usually do not provide dental implant treatments and need to refer to a specialist. A dental implant dentist is also trained in the different types of implants such as Endosteal and subperiosteal. The difference is that the former kind of implants reside in the jawbone and the latter is under the gum. Endosteal is more common and usually looks like a titanium screw, very small in size. But there are many situations that actually demand a person to undergo subperiosteal. The reasons could be many, ranging from not having enough healthy jawbone to inability to undergo bone augmentation.
The techniques also differ. And on top of that, there are different methodologies for rebuilding bone for natural jawline restoration purposes so that implants are easier to do like ridge expansion, sinus lift, or bone augmentation.
With the science in a dental implant being technical and difficult, it requires additional training that general dentists may not have. This is why it is important to have a local dental implant specialist near you.
Benefits of Same Day Implants
Same Day Implant surgery does not require glue or adhesives, and the procedure is comfortable and safe. Your new implants will replace the roots of damaged or missing teeth and function just like your natural teeth. Implants will align with the rest of your teeth to create a beautiful smile.
Same Day implants offer a number of other benefits, including:
Natural look and function
Teeth do not need to be replaced
Your teeth will not dislodge
Long lasting results
What Else You Should Know about Dental Implants
Although the healing process with dental implants is commonly quick, there can be things that delay the body's ability to heal such as smoking.
Dental implants can't develop tooth decay, but it is important to visit your dentist twice a year for examinations and cleanings. Gum disease can form around the area, so having your teeth professionally cleaned is still crucial. It is also a good idea for your dentist to examine the implants on a regular basis to ensure they are staying strong.
We want to help you feel comfortable about receiving dental implants and answer in questions that you may have.
At AXIOM, we treat for critical dental surgeries that can help you restore your body's optimal health. Our trained professionals use innovative tools to ensure accurate diagnosis and technologies to reduce discomfort.
For more information on AXIOM Implant & Specialty Dentistry and how we can help you with all dental implant needs, call or contact us at (702) 541-8450 and visit our online appointment booking page today.